Best Robo Advisor for Digital Financial Planning

Winner: Wealthfront
Runner-Up: Personal Capital
Honorable Mention: Schwab

Wealthfront, Personal Capital, and Schwab stand above their peers in this category by offering robust planning tools to clients and prospective clients alike. Their tools can handle complex, multi-goal plans that show users the interaction of all their goals in a single, unified plan. These digital planners also leverage automated account aggregation and provide users with a comprehensive view of their financial picture, regardless of where their assets are held. Wealthfront and Personal Capital also have the added bonus of providing their tools for free without the requirement of first becoming a paying client. In the past, independent robo advisors have offered the best digital financial planning experiences; however, Schwab's upgrade of their financial planning tools in 2019 earned them the honorable mention in this category.
Wealthfront once again takes the top spot for best digital planning tools, as their platform can model six different planning scenarios: retirement, saving for college, buying a home, large one-time expenses, income windfalls, and taking extended time off work to travel. Whenever adding a new goal, Wealthfront has built an intuitive questionnaire that walks users through the variables that are considered in their analysis, projecting how a new goal will impact each of their other investing and spending goals. For example, their extended travel goal considers your current income, net worth, and estimated travel costs to help users determine the potential impact on their holistic financial plan.
Once set up, all goals are plotted along the net-worth timeline for easy visualization. Wealthfront has also taken steps in recent months to bolster its financial planning platform by acquiring another fintech startup, Grove. With the help of Grove's team and technology, Wealthfront is developing a platform called "Self-Driving Money," aimed at further reducing the friction of saving and meeting financial goals. Wealthfront has also hinted at a platform to help users acquire mortgages, which will most likely take into consideration a user's overall planning needs.
Like Wealthfront, Personal Capital's planning tool can model a broad set of goals in a unified plan. Within their suite of planning tools, Personal Capital provides users with a retirement planner, savings planner, investment checkup tool, and retirement fee analyzer. Using the retirement analysis tool, individuals can factor seven different types of income events and ten different spending goals, covering a wide range of client needs. However, there are limitations to the tools provided. For example, Personal Capital's home purchase tool takes into consideration the down payment and age at which the purchase will occur, but does not adjust spending to account for a change in the cost of living due to mortgage payments, property taxes, etc. In contrast, Wealthfront's tool considers a user's current housing costs, income, where they want to purchase, the length of the mortgage, and other variables to give users a range of home values they can afford. Wealthfront then shows how homeownership will affect a user's net worth over time by plotting it in its unified plan. While Personal Capital offers a wider breadth of planning options, Wealthfront wins as the Best Robo for Digital Financial Planning due to its more dynamic, data-driven planning tools.
Schwab deserves an honorable mention in this category, after it revamped its financial planning experience in 2019, as well as introduced a set of features to help retirees with income during retirement in 2020. Within the financial planning platform, investors can build multiple financial goals with different risk tolerances that factor in assets held in outside accounts. The new tool also allows for 16 different goals, including starting a business, leaving an inheritance, and anticipated healthcare needs, among others. Schwab also allows users to customize the importance of each goal, ranking them between needs, wants, and wishes. The tool then walks users through an 11-step questionnaire that factors in all money sources available, including Social Security, pensions, insurance, stock options, etc. They allow a user to allocate certain accounts towards specific goals. After assessing risk tolerance, the planning tool runs a Monte Carlo simulation, helping users understand their probability of successfully achieving their goals. This tool is powered by Money Guide Pro, an in-depth planning software commonly utilized by financial professionals. When combined with a scheduled call with a financial planner, Schwab's platform provides significant value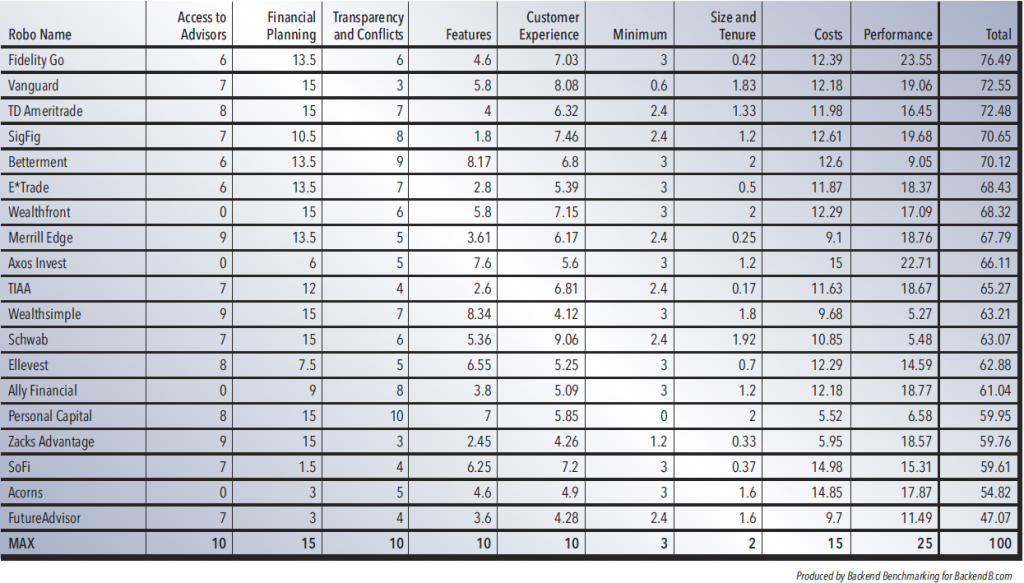 The Robo Ranking™ is the only comprehensive ranking of robo advisors that includes not only the features and services, but also portfolio performance, sourced from real accounts tracked by Backend Benchmarking. The Robo Ranking™ goes well beyond performance and grades the robos across more than 45 specific metrics. We scored each robo on various high-level categories, such as features, financial planning, customer experience, access to live advisors, transparency and conflicts of interest, size and tenure, account minimums, costs, and performance. Each metric where we grade the robos is specific and unambiguous. See the full scoring rubric here