Best Robo Advisor for 2020
Winner: Fidelity Go
Runner-Up: Vanguard Personal Advisor Services
Honorable Mention: TD Ameritrade
Fidelity Go has once again been awarded the Best Overall Robo Advisor for the third consecutive Robo Ranking™. With a portfolio constructed using proprietary Fidelity Flex mutual funds, our Fidelity Go account has steadily outperformed in terms of its performance above the Normalized Benchmark and Sharpe ratio. Fidelity's managed portfolios come with a low fee of 0.35% of assets under management. Since the underlying mutual funds do not charge any internal expense ratios, this 0.35% fee represents the all-in cost. Live advisors are available for clients enrolled in their Personalized Planning and Advice service, which charges a slightly higher 0.50% all-in management fee. With this higher-tier service, account holders can work with an advisor to address their investment and planning needs that are not covered by Fidelity Go's digital tools. Consistent performance, a competitive fee structure, and strong digital planning tools are why we ranked Fidelity Go as the Best Overall Robo.
Vanguard is once again the runner-up for Best Overall Robo in this edition of The Robo Ranking™. While Vanguard lags behind in digital planning tools, it excels by focusing its offering around access to live advisors for all clients. Vanguard offers dedicated advisors to assist in financial planning for those with more than $500K in assets. Despite the shortcomings of their web platform, unlimited access to live advisors for 0.30% annually helped Vanguard receive the award for the runner-up Best Overall Robo. Although it was not considered in this ranking, as it has yet to be released, Vanguard has also announced a Digital Advisor platform that will be a digital-only offering at a lower cost and minimum. Vanguard's compelling platform has gathered the most assets of any digital advice provider by a wide margin. Building on this success, we expect it will continue to invest and improve its digital advice services.

TD Ameritrade placed third in this edition of the ranking. TD has a compelling offering. Similar to products from most other incumbent financial institutions, Essential and Selective Portfolios lack the intuitive online experience provided by independent robos. TD offers financial planning to all customers through their financial consultants either over the phone or in branches. Although this represents a more traditional approach to planning, the plans created can be comprehensive. While we acknowledge the quality of the Essential and Selective Portfolios' products, the recent acquisition of TD by Schwab creates uncertainty around the future of this product and how existing client accounts will be handled if and when the product is integrated with Intelligent Portfolios. We suggest that clients shopping for a new provider hold off on selecting Essential or Selective Portfolios until there is more visibility into how the integration with Schwab will be handled.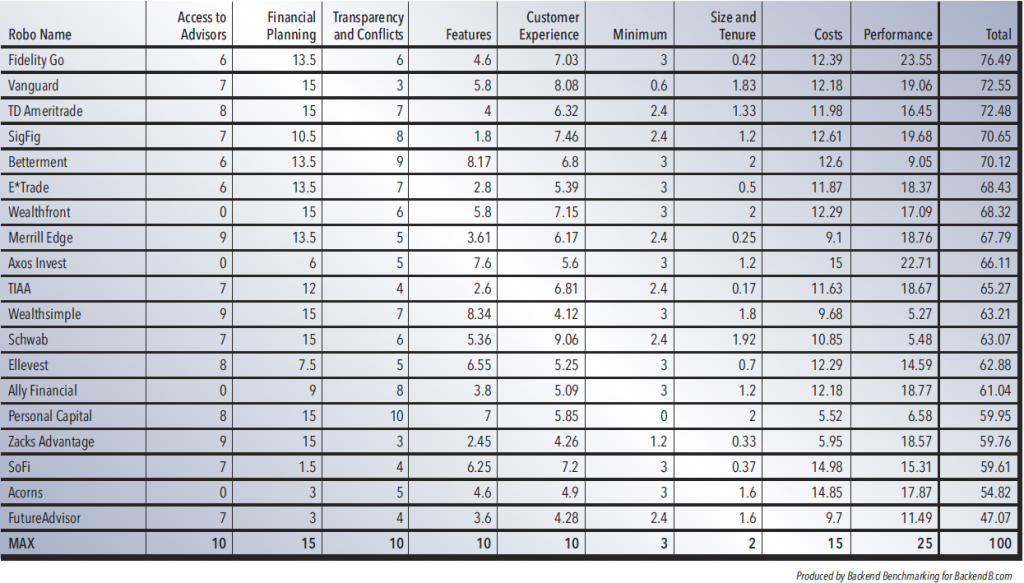 The Robo Ranking™ is the only comprehensive ranking of robo advisors that includes not only the features and services, but also portfolio performance, sourced from real accounts tracked by Backend Benchmarking. The Robo Ranking™ goes well beyond performance and grades the robos across more than 45 specific metrics. We scored each robo on various high-level categories, such as features, financial planning, customer experience, access to live advisors, transparency and conflicts of interest, size and tenure, account minimums, costs, and performance. Each metric where we grade the robos is specific and unambiguous. You can get a full copy of the Ranking here.