Best Robo for Complex Financial Planning 2020
Posted on August 10, 2020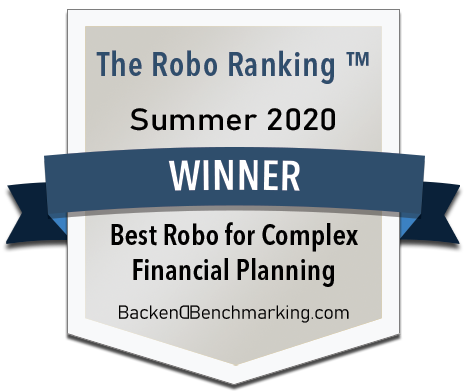 Best Robo for Complex Financial Planning 2020
Winner: Vanguard Personal Advisor Services
Runner-Up: Personal Capital
Honorable Mentions: Ellevest & Wealthsimple
Investors with complex financial planning needs benefit from the ability to work with a live planner and should consider robo advisors with access to human advisors.
Although many providers offer more robust planning services at a higher-fee service tier or a-la-carte planning packages, Vanguard's Personal Advisor Services includes planning with a live advisor for just a 0.30% management fee. Personal Advisor Services championed the hybrid-advice model early and centers the planning experience around live advisors. Working with an advisor, users can plan for multiple long-term investment goals and receive a comprehensive illustration of their assets. While Vanguard's digital planning tools at the Personal Advisor Services level are not as feature-rich or flexible as those offered by Personal Capital, the runner-up in this category, its individualized approach stands out. What Personal Advisor Services lacks in an intuitive user interface it makes up for with its traditional approach to delivering high-quality advice through live planners.
The runner-up in this category, Personal Capital, combines a traditional, live-advisor approach with best-in-class digital planning tools. Its free digital planning tools are flexible and can handle a broad set of income and spending goals. Additionally, Personal Capital has a 'Retirement Paycheck' feature that will help users determine a tax-efficient withdrawal strategy as they transition from earning a salary to relying on assets to supplement their income during retirement. When an investor needs help beyond the digital planning tools, Personal Capital's team of live advisors and planners is there to bridge the gap.
Personal Capital also offers access to multiple portfolio strategies including direct indexing and SRI-themed portfolios. Those investing more than $1,000,000 with Personal Capital's Private Client service can receive custom portfolios that include individual stocks and bonds, as well as the option of gaining exposure to private equity.
The biggest detriment to Personal Capital is its fees, which currently start at 0.89%. When compared to other digital advice providers, this fee is high but is still lower than typical traditional advisors. Fees aside, Personal Capital was one of the few advisors in our ranking with a perfect score in the financial planning category and is well-suited to help clients with complex needs.
Both Wealthsimple and Ellevest earned honorable mentions for their complex financial planning capabilities. At their highest service levels, Wealthsimple Generation and Ellevest Private Wealth investors receive individualized planning and investment services comparable to those offered by Personal Capital's Private Client offering. Ellevest, which caters to female investors, also has the unique feature of offering career coaching to help clients navigate salary negotiations and other career challenges. Ellevest recently changed to a subscription model and now offers live planning sessions to their non-Private Wealth clients for an additional fee. Additionally, Wealthsimple provides access to live advisors to all of their clients, regardless of service level. But, those who wish to build a full financial plan with a Wealthsimple planner will need a minimum investment of $100,000 and must be signed up for Wealthsimple Black. Wealthsimple can provide comprehensive plans, but the planning portal and the regular client portal are not currently integrated.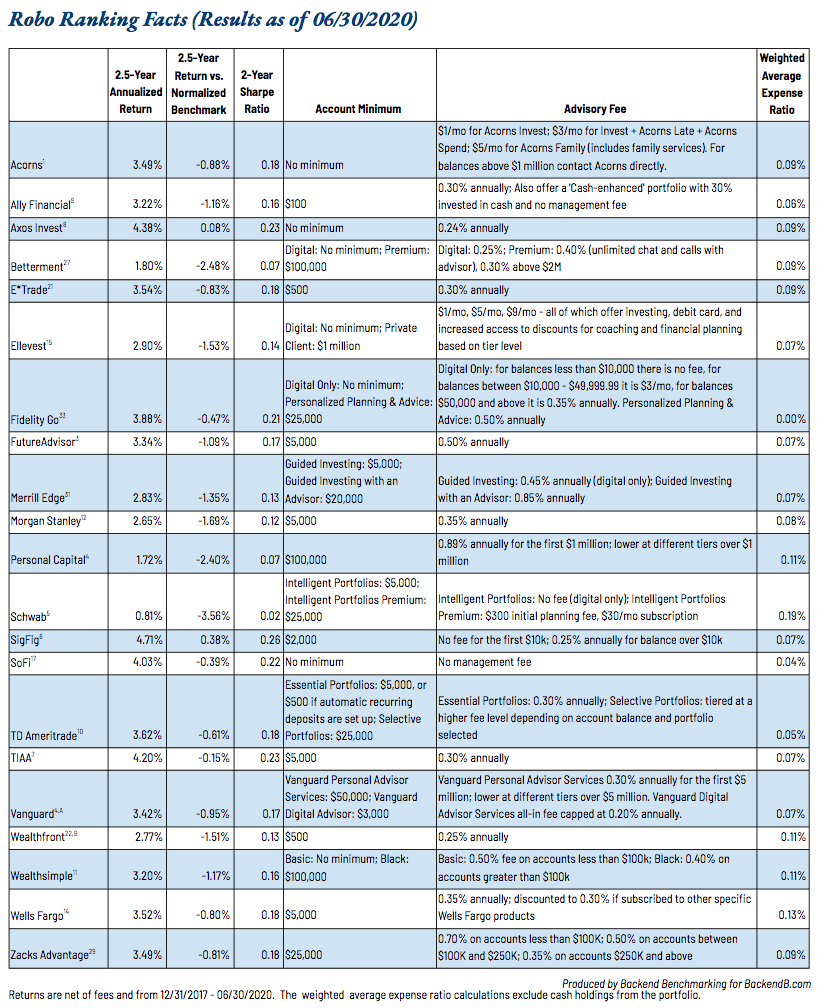 Details of how we rank the robos can be found here: https://www.backendbenchmarking.com/robo-ranking/
Best Robos
Tagged
Backend Benchmarking
,
Best Robo
,
Ellevest
,
Financial Planning
,
Hybrid
,
Personal Advisor Services
,
Personal Capital
,
Robo Ranking
,
The Robo Report
,
Vanguard
,
Wealthsimple