Best Robo Advisor for 2020
Posted on December 1, 2020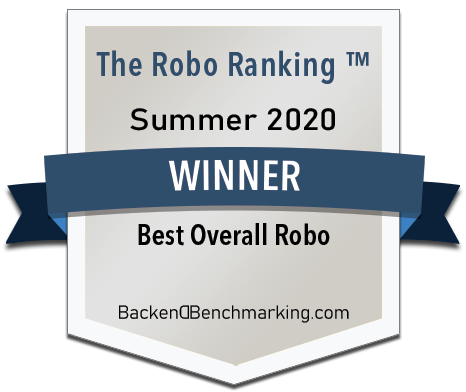 Best Robo Advisor for 2020
Winner: SigFig
Runner-up: TD Ameritrade
Honorable Mention: Fidelity Go
The Robo Ranking has a new Best Overall Robo Advisor, as SigFig has taken the top spot from Fidelity Go. SigFig won because of its record of strong performance, low fees, and access to advisors at lower asset levels than many other providers. Over the 2.5-year analysis period used for this Ranking, SigFig had the best performance relative to its Normalized Benchmark and the best risk-adjusted performance measured by the Sharpe ratio. Its resulting performance score drove it to the top of the Ranking. However, SigFig has many attractive features beyond performance.
With a $2,000 account minimum and a $10,000 minimum for access to live advisors, SigFig is widely accessible to new investors and can provide live advice at a low minimum with an affordable fee. SigFig only charges 0.25% annually and there is no management fee on the first $10,000 invested.
But even at its lower tier, SigFig offers customers strong digital tools. Its built-in retirement planner allows users to adjust retirement and investing variables, such as where a user will retire, standard of living in retirement, risk profile of the user's investment strategy, life expectancy, and more.
SigFig also offers several unique features. Users can link external brokerage accounts and SigFig will analyze the portfolio and flag issues, such as high fees and improper diversification across and within asset types. At its premium level, SigFig is one of the only providers that flexibly handles unrealized taxable gains on securities transferred in from an outside account.
One noted detriment to SigFig is, despite advertising tax-loss harvesting, we did not witness SigFig take advantage of the recent market volatility to execute any tax-loss harvesting trades. Strong risk-adjusted performance, affordable access to live advisors, and strong digital tools are why SigFig has claimed the top spot.
TD Ameritrade moved up to the runner-up position for Best Overall in this Ranking. TD received a perfect score in the Financial Planning category and most of the points for the Access to Advisors category. Clients can call or visit a TD financial consultant found across its network of local branches. These professionals will create a comprehensive financial plan.
We note that this financial planning service is not native to Essential or Selective portfolios itself, but is available to all TD customers via branch representatives, in-person or over the phone. However, this is still an old-school approach to providing advice. TD's website does not have the suite of digital tools or user experience that we have come to expect in today's digital providers.
Another area that TD does well is cost. TD offers its Essential Portfolios service for a low fee of 0.30% and has underlying fund fees of only 0.05%. Low fees, combined with a low minimum, strong performance, and the access to advisors, make TD a compelling offering for most investors. Unfortunately, there is a large unknown as to how Schwab will eventually integrate Essential and Selective Portfolios after the planned acquisition. We suggest potential new clients hold off choosing TD until they can understand clearly what the acquisition will mean for their portfolio and service.
Fidelity Go, after being ranked the best robo three consecutive times, has dropped to third place. Fidelity Go constructs its portfolios with its proprietary Fidelity Flex mutual funds. Although we acknowledge the conflict of interest in a provider relying on proprietary funds, this account has steadily outperformed in terms of performance vs. the Normalized Benchmark and Sharpe ratio.
Fidelity Go has a competitive annual management fee of 0.35% and the Fidelity Flex funds do not have any underlying expense ratios, making 0.35% an all-in cost. We have always been an advocate for transparency and like the fact that clients can easily and clearly understand the all-in cost of Fidelity Go.
Clients can upgrade to the Personalized Planning and Advice level, but the fees jump to 0.50%, and the minimum increases from $10 to $25,000. This 0.50% fee and increased minimum, although not the lowest on the market, is competitive with other "hybrid-advice" offerings. With this higher-tier service, account holders can work with an advisor to address investment and planning needs that are not covered by Fidelity Go's digital tools. Consistent performance, a competitive fee structure, and useful digital planning tools are the hallmark of a good robo advisor and why we ranked Fidelity Go third in the Best Overall Robo category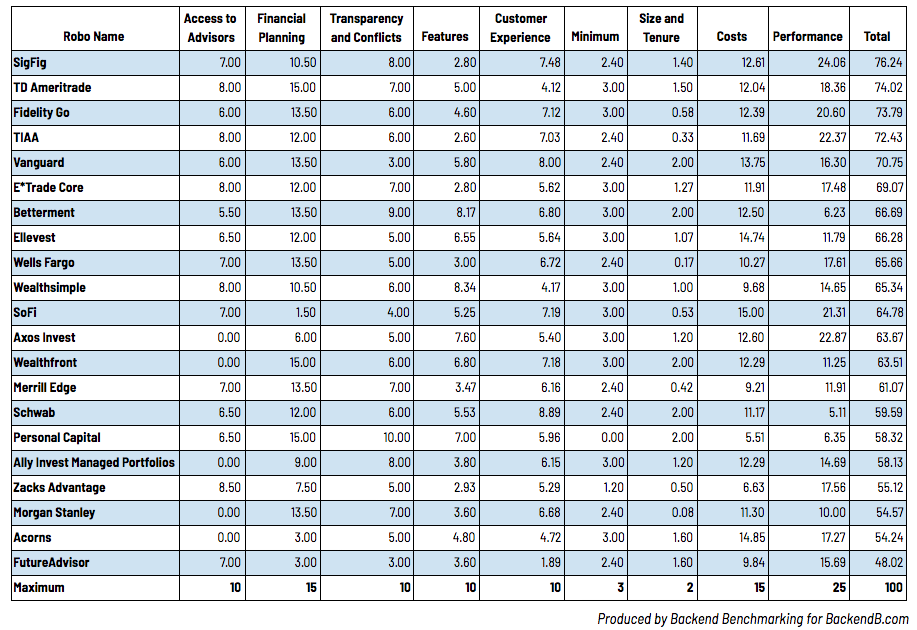 The Robo Ranking™ is the only comprehensive ranking of robo advisors that includes not only the features and services, but also portfolio performance, sourced from real accounts tracked by Backend Benchmarking. The Robo Ranking™ goes well beyond performance and grades the robos across more than 45 specific metrics. We scored each robo on various high-level categories, such as features, financial planning, customer experience, access to live advisors, transparency and conflicts of interest, size and tenure, account minimums, costs, and performance. Each metric where we grade the robos is specific and unambiguous. You can get a full copy of the Ranking here.
Best Robos
Tagged
Best Overall
,
Digital Advice
,
Fidelity
,
Fidelity Flex
,
FidelityGo
,
Performance
,
Personal Advisor Services
,
Robo Ranking
,
Tax Loss Harvesting
,
TD Ameritrade
,
Vanguard