Best Robo for Performance at a Low Cost 2021
Posted on February 24, 2021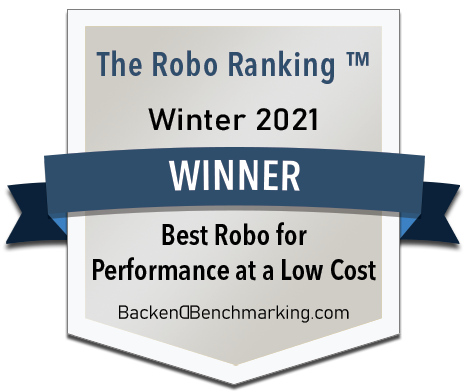 Best Robo for Performance at a Low Cost 2021
Winner: SigFig
Runner-Up: SoFi
Honorable Mention: Wells Fargo
The Robo Ranking performance score is based on the account's Sharpe ratio and performance compared to the account's Normalized Benchmark. This Ranking uses data from the 3-year period ending December 31, 2020.
SigFig takes First Place
SigFig wins the Best Robo for Performance at a Low Cost award for a second consecutive Robo Ranking. From a returns perspective, SigFig was tied for first place with Wells Fargo Intuitive Investor. They both returned 0.23% above the Normalized Benchmark, while the average robo in the Ranking underperformed its Normalized Benchmark by -1.15%. 
Additionally, SigFig's Sharpe ratio was 0.59, while the group's average was 0.48, meaning that SigFig not only had compelling returns but took an efficient level of risk to achieve those returns. Over the last three years, SigFig's equity holdings benefited greatly from a few major themes. 
A Look at Returns
First, it avoided a value tilt during a period when the Russell 3000 Value Index returned 18.70% and the Russell 3000 Growth Index returned 83.84%, for the 3-year period ending December 31st, 2020. Approximately one-third of SigFig's entire portfolio is in VTI, Vanguard's Total Stock Market ETF. This fund is neutral in terms of its equity style, meaning that it does not exhibit a significant tilt towards growth or value. The ETF is, however, weighted towards large- and mega-cap holdings. While small-caps had a fantastic fourth quarter of 2020, favoring large-cap stocks benefited SigFig as they substantially outperformed mid-cap and small-cap stocks over a longer period.
Within its fixed-income holdings, SigFig kept its bonds mostly allocated to high-quality U.S. bonds, which provided meaningful diversification during the COVID-19 sell-off. Last spring when equities collapsed, Treasury bonds fared well, providing stability to the portfolio. In tandem with the allocation to domestic large caps, these fixed-income choices drove SigFig's compelling Sharpe ratio.
Keep Costs Down: A Recipe for Success
SigFig's robo offering costs only 0.25% annually, making it one of the lowest advisory fees in the group. Its fund fees have an average expense ratio of approximately 0.07%, which is also low. The combination of stellar returns and a low total cost make it a compelling offering for most investors who can meet the $2,000 minimum. 
SoFi Runner-up
SoFi wins the runner-up spot for Performance at a Low Cost. SoFi does not charge a management fee. Additionally, its fund fees have a staggeringly low average expense ratio of just 0.04% annually. The detrimental role that fees can play on an investor's long-term return is well documented, but SoFi users can be assured they are getting one of the best deals in the industry. SoFi emphasizes U.S. large-cap companies tilted towards growth.
Speciality ETFs
The portfolio's signature holding is the SFY ETF, which is just under 40% of the total portfolio. Note that this ETF, the SoFi Select 500, is not just the 500 largest U.S. companies, but it is also weighted according to growth signals.
This type of ETF has benefited greatly in the recent low-growth regime that has resulted in investors piling into large-cap U.S. growth companies like Tesla and Amazon. While value outperformed in the fourth quarter, portfolios have benefited from a growth tilt over the longer timeframe.
Wells Fargo Makes the Grade
Wells Fargo Intuitive Investor is an honorable mention in the category. The big bank's robo advisor is offered at a low 0.35% management fee and was tied for first place with SigFig in terms of performance against its Normalized Benchmark.
Goldman ETFs or Broad Asset Allocation?
However, Wells Fargo does have a slightly higher 0.13% average fund fee in part due to allocations to ActiveBeta Goldman Sachs ETFs. Regardless, the main driver behind its compelling performance was its overall allocations. Wells Fargo has significantly more domestic exposure than foreign in its stock portfolio, which bolstered portfolio performance. Additionally, it held VXF, Vanguard Extended Market ETF, for its mid-cap and small-cap exposure. Over the last three years, this ETF significantly outperformed the Russell 2000 (a small-cap index) in part due to a meaningful tilt towards growth. 
Best Robos
Tagged
Axos Invest
,
Best Robo
,
Fidelity Go
,
Performance