Best Robo Advisor For First-Time Investors 2021
Posted on February 25, 2021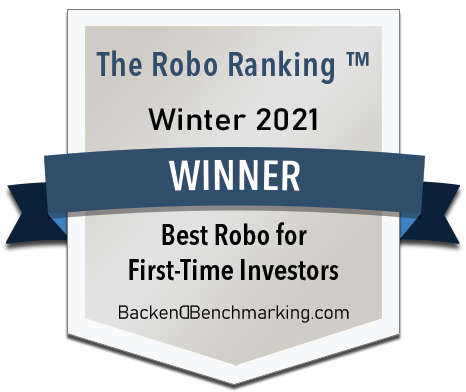 Best Robo Advisor For First-Time Investors
Winner: Betterment
Runner-up: Wealthsimple
Honorable Mention: SoFi
Betterment remains the Best Robo for First-Time Investors
Betterment remains the Best Robo for First-Time Investors. Investors can get started with Betterment with any size initial investment for a low 0.25% annual advisory fee, making it a prudent and accessible option.
Additionally, Betterment stands out with financial planning tools that are flexible and easy for new investors to understand. The user interface allows an investor to create specific portfolios that correspond with separate and unique goals. The goal forecaster shows how a one-time deposit, a change in recurring deposits, or a change in time horizon can influence the projected outcome. The outcomes themselves show a range of possibilities so that the investor can weigh the risks and have probability-driven expectations. For those new to understanding investment risk, there is a sliding-scale feature that displays how a higher allocation to stocks can change the range of predicted investment outcomes.
Betterment Premium & Features
Betterment users can upgrade to Betterment Premium or schedule a one-time planning session with a Certified Financial Planner (CFP). A new investor can benefit by having a one-time consultation to create a plan and ask questions. Betterment Premium is there for investors as they grow their assets and require regular sessions or have complex needs. Investors can be confident that they are getting sound financial advice since the CFP designation is the industry standard.
Betterment is one of the only robos to specify this credential as part of their offering. When it comes to other features, Betterment Everyday offers a high-yield cash account that offers a superior interest rate compared to a standard checking account. Betterment also offers Socially Responsible Investing (SRI), income-focused investing, and smart-beta investing. These strategies may be interesting to new investors still exploring what makes sense for them.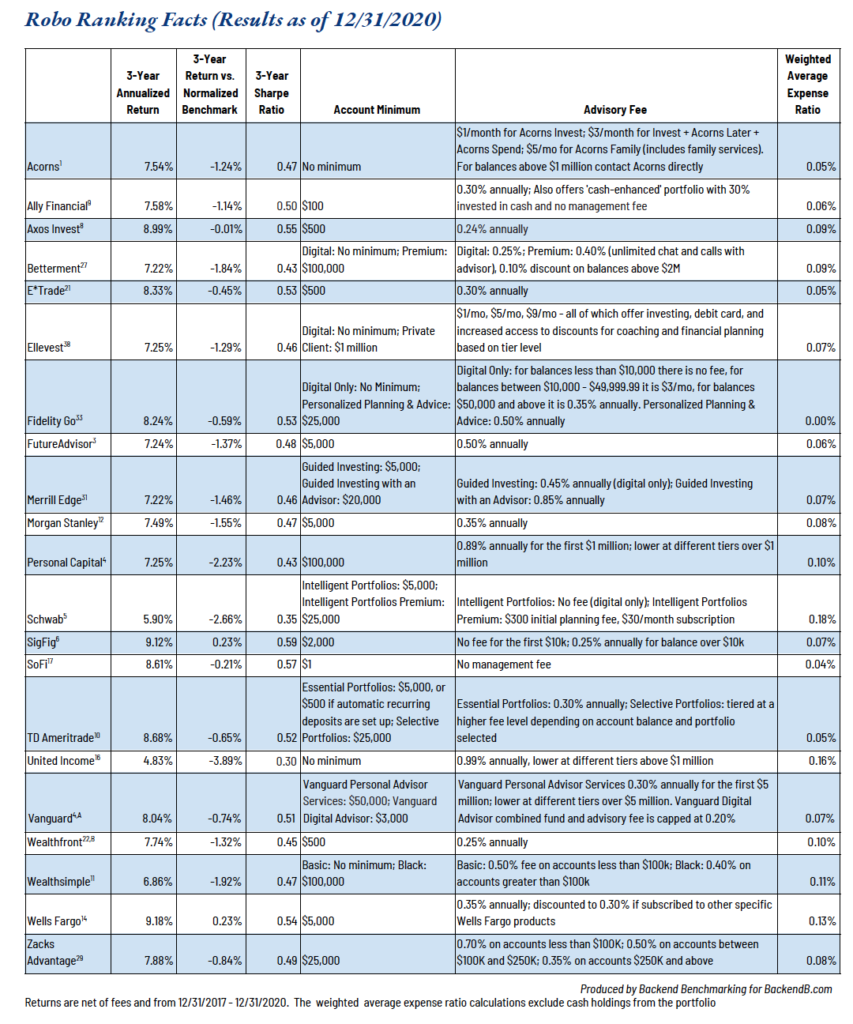 With no investment minimum, competitive fees, clear financial planning tools, an ability to upgrade for access to CFPs, and different options to explore, Betterment is our top choice for the first-time investor.
Wealthsimple takes Runner-up
Wealthsimple has held its runner-up position in this category. At its Basic tier, an investor can get started with no minimum investment and has access to options for SRI or Halal investing, roundups, and to financial experts without additional cost. No investment minimum encourages investors to get started even with small sums. SRI investing caters to many modern investors' interest in ethical choices, and roundups encourage the habit of regular saving and investing.
Investors can schedule a portfolio review with a financial expert at Wealthsimple's lowest tier, without additional cost. This makes asking questions and starting a dialogue with a professional easy for a first-time investor. Common behavioral pitfalls like trading when emotions are high, misjudging one's risk capacity, or failure to stay the course can all be mitigated with the assistance of an expert.
SoFi Honorable Mention
SoFi deserves an honorable mention for this category. SoFi has no minimum, no management fee, and offers access to expert advice. While SoFi's main focus is being a provider of consumer lending and student debt management, it views investment management as an important complement.
Once a typical customer pays down their student loans, they can begin saving, planning, and investing in-house with SoFi. SoFi Money offers high-interest saving and budgeting tools to support day-to-day personal finance needs. With SoFi, a new investor has an expert to call, the knowledge that they are getting a great deal on their investments, and the benefit of other financial tools and resources all in the same place.
For more information, check out the latest Robo Report.
Best Robos
Tagged
Betterment
,
Cash account
,
Fees
,
Financial Planning
,
Minimum
,
Robo Ranking
,
SoFi