Best Robo Advisor for Digital Financial Planning 2021
Posted on February 24, 2021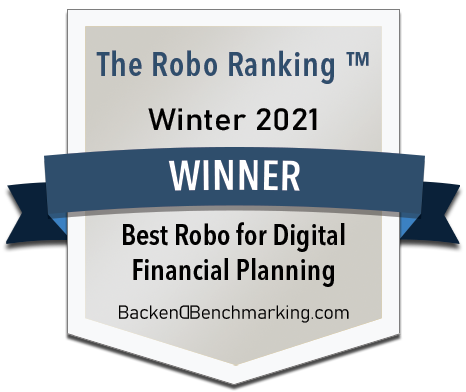 Best Robo Advisor for Digital Financial Planning
Winner: Wealthfront
Runner-Up: Personal Capital
Honorable Mention: Schwab

Overview
For most of its history, the financial industry provided detailed planning only to those with a considerable net worth. However, with the advent of digital-advice providers, access to planning has improved significantly for households of all asset levels. The Best Robo for Digital Financial Planning award recognizes the robos that best provide a clear picture of a user's financial situation and show a level of innovation in digital tools. Wealthfront, Personal Capital, and Schwab stand out as the best advisors in this category.
Features Across the Platforms
When looking at what these platforms have in common, there are a few major factors. First, is the ability to aggregate outside accounts into a user's financial picture. Wealthfront, Personal Capital, and Schwab Premium can directly link to external accounts. Next, these robo advisors have a unified plan that allows users to see their accounts come together in one plan. Lastly, each of the winners' platforms can integrate the finer details of life choices, like buying a home, considering Social Security, and other key factors that are outside of the investment portfolio.
Wealthfront takes the prize
Wealthfront won first place for this award due to its innovative features and sleek user interface. Without signing up for any paid service, users see their linked accounts in one place, their overall plan's expected future value, and Wealthfront will instantly calculate the user's savings rate. From there, the user can model a variety of planning goals, including saving for college or buying a home. As each scenario is added to the plan, users check in to their overall goal and see its impact. The balance between simplicity and sophistication shines with Wealthfront.
Wealthfront Innovation & Features
When looking at some of the innovative components that Wealthfront boasts, the first is the new Autopilot feature. Autopilot allows the user to set a specific amount of cash to be used as the liquidity in the plan, while excess cash is recommended to be moved to a Wealthfront investment account. This feature encourages the client to maximize their savings and make regular contributions to their investment accounts. Wealthfront's home-buying goal stands out as well. It will suggest an approximate housing price, mortgage, and down payment based on a user's financial situation. In tandem with the simplicity of the unified goal, these features keep Wealthfront at the top of this award.
Personal Capital Shines
Personal Capital is the runner-up for the Best Robo for Digital Financial Planning award. Whereas Wealthfront focuses on a single integrated plan, Personal Capital offers a series of individual tools for specific insights. For example, there are tools for analyzing advisor fees, debt management, and a Portfolio Checkup. These tools tend to be visual, intuitively designed, detailed, and free. Personal Capital also stands out for its inclusion of debt management planning, an area many robos have not yet integrated. These other tools aside, Personal Capital's digital plans are robust and, similar to Wealthfront, are capable of modeling multiple goals in a single, integrated plan.
One of the innovative features is the Portfolio Checkup. This feature displays a breakdown of the user's overall asset allocation and compares it to a recommended portfolio. It generates an efficient frontier and a projected account value to contextualize their current portfolio. Another feature is the "You-Index", a performance number based on the user's investments, which can be compared to traditional indices. Personal Capital's broad suite of tools earned it the runner-up spot.
Schwab Premium and Schwab Plan
Schwab wins the honorable mention for this category due to a stellar digital platform offered in its Premium version, a subscription-based offering with a $25,000 minimum. It also recently introduced a free tool called Schwab Plan to all users with a Schwab brokerage account. These planning tools are powered by MoneyGuidePro, an institutional-quality platform. A Premium user can directly link outside accounts, select from a variety of life events, and build multiple goals with their own risk tolerance. Additionally, Schwab allows users to customize the importance of each goal, ranking them between needs, wants, and wishes. Both Personal Capital and Schwab combine powerful digital tools with live planners, while Wealthfront maintains its digital-only approach.
The Robo Ranking™ is the only comprehensive ranking of robo advisors that includes not only the features and services but also portfolio performance, sourced from real accounts tracked by Backend Benchmarking. The Robo Ranking™ goes well beyond performance and grades the robos across more than 45 specific metrics. We scored each robo on various high-level categories, such as features, financial planning, customer experience, access to live advisors, transparency and conflicts of interest, size and tenure, account minimums, costs, and performance. Each metric where we grade the robos is specific and unambiguous. See the full scoring rubric here
Best Robos
Tagged
Backend Benchmarking
,
CFP
,
Digital Advice
,
Financial Planning
,
Personal Capital
,
Robo Ranking
,
Schwab
,
The Robo Report
,
Wealth Management
,
Wealthfront