Marcus Invest Robo Advisor Review & Performance March 2021
Posted on March 29, 2021

Goldman Sachs launched its Marcus brand in 2016, close to 150 years after the investment bank first opened its doors in 1869. Goldman designed the digital bank for people to "better manage their debt by providing fixed-rate, no-fee personal loans," according to a statement by Goldman Sachs. The following year, the platform expanded by integrating an online deposit program. This piece is a Marcus Invest robo advisor review, including performance, as of March 2021.
Marcus Invest
In 2019, Marcus announced a partnership with Apple to launch Apple Card, a unique credit-card offering built for transparency, security, and seamless integration with Apple products. Finally, in 2021, the long-awaited managed portfolios component, or "robo advisor," of Marcus was launched. We look forward to seeing how this digital platform continues to expand its services as the years go on.
Pros:
In-house personal loans and debt management services
Competitive 0.35% management fee
ESG and Smart Beta investing options
High-yield savings account options
Cons:
Limited financial planning tools
Limited advanced features like tax-loss harvesting
No human advisors
Marcus Invest Review: Platform Facts*
| | |
| --- | --- |
| Category | Information |
| Account Minimum | $1,000 |
| Advisory Fee | 0.35% annually |
| Average Weighted Expense Ratio | 0.0005 |
Marcus Invest Review: Performance Summary (as of 12/31/20)*:
| | | | | | | |
| --- | --- | --- | --- | --- | --- | --- |
| | YTD | 1-Year | 2-Year | 3-Year | 4-Year | 5-Year |
| Marcus Invest IRA | #N/A | 0.1347 | 0.1965 | - | - | #N/A |
| Rank vs Benchmark* | #N/A | #N/A | #N/A | #N/A | #N/A | #N/A |
| vs. Normalized Benchmark | #N/A | -0.0336 | -0.0202 | | | |
| Sharpe Ratio | | 0.52 | 0.78 | | | |
*This is for an all-equity IRA account held at Honest Dollar and is now a Marcus Invest IRA
A note on performance figures
In 2016, Marcus acquired Honest Dollar, a robo advisor designed for retirement accounts. At Backend Benchmarking, we have had an account opened with Honest Dollar since 2018. After rebranding Honest Dollar to Marcus Invest, Goldman has not changed the portfolio since the launch of Marcus Invest so we believe it is a reasonable representation of the current investment strategy.
Marcus Invest Review: Features
Marcus Invest boasts a few components that immediately make it competitive in the marketplace. A low 0.35% fee is competitively priced and a minimum of $1,000 makes it accessible for many investors. Marcus offers three investment options: a traditional index-fund based investment strategy, an ESG (Environmental, Social, Governance) option, and a smart-beta version that has the potential for outperformance. Although none of these are unique to Goldman Sachs, they are in-line with other notable providers, like Betterment, E*Trade Core Portfolios, and TD Essential Portfolios.
Inside the Portal
The planning tools are sleek, clear, and easy-to-use. There is a chart that projects one's expected values based on strong, average, and weak market conditions.
There is also an intuitive way to test out different contribution amounts and the impact made on one's investment account.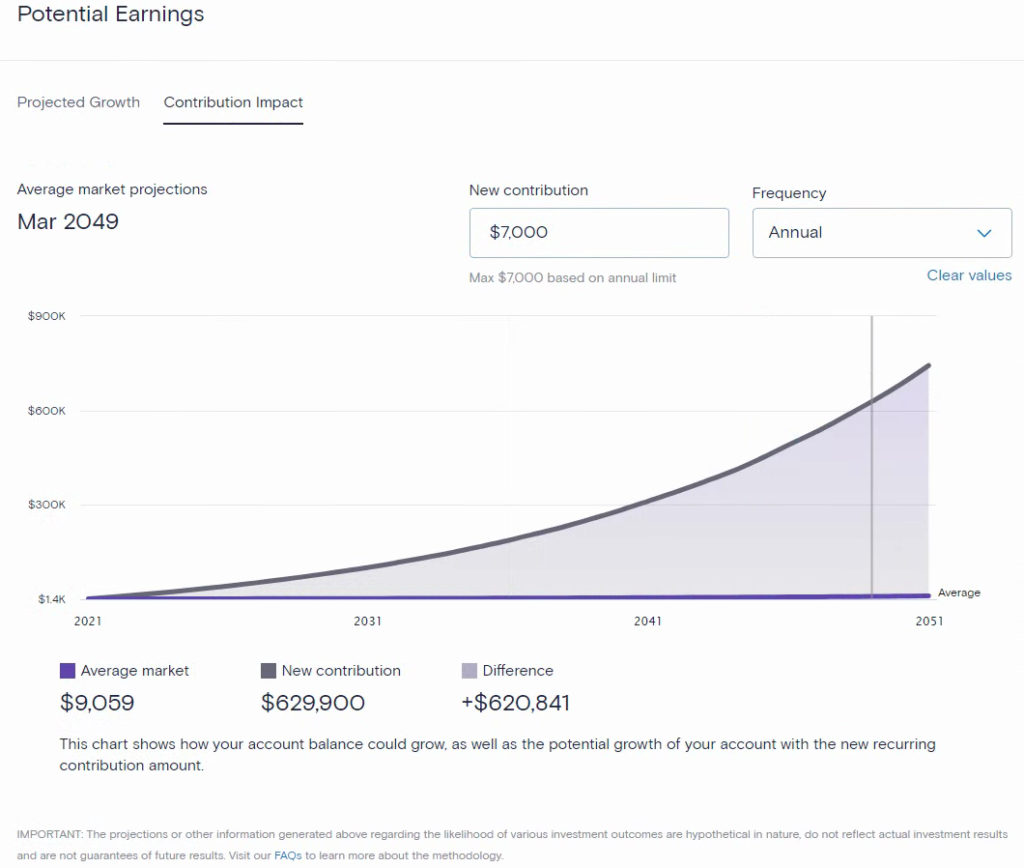 The app clearly displays a rate of return and an investor's return history. Rather than avoiding this piece of data like some providers, Marcus Invest clearly displays where you stand and what you earned. However, one feature missing is the ability to compare to benchmarks.
Although not ground-breaking, the user experience is smooth and natural. The buttons are clear and there is no confusion about whether or not one is actually committing to the changes or just testing them hypothetically. All in all, the tools are simple and no-frills but also effective and clear.
Profiles