Best Robo Advisor for 2021
Posted on July 15, 2021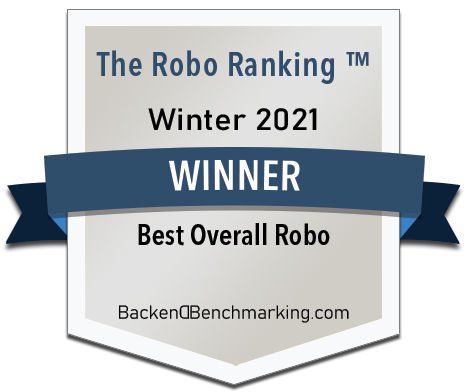 Best Robo Advisor for 2021
● Winner: SigFig
● Runner-up: SoFi
● Honorable Mention: Fidelity Go
SigFig Wins the Robo Ranking
SigFig has retained its spot as the Best Overall Robo in this edition of the Robo Ranking™. SigFig remains atop the pile because of its record of strong performance, low fees, and access to advisors at lower asset levels than many other providers. SigFig tied Wells Fargo in terms of performance relative to the Normalized Benchmark but stood alone in risk-adjusted performance measured by the Sharpe ratio. Performance is a large component of the overall score and, thus, SigFig's strong performance drove it to the top. Additionally, SigFig also has many attractive features and access to live advisors.
An investor can get started at SigFig with only $2,000 and SigFig only charges customers 0.25% annually on assets above $10,000. This makes it very affordable at all asset levels.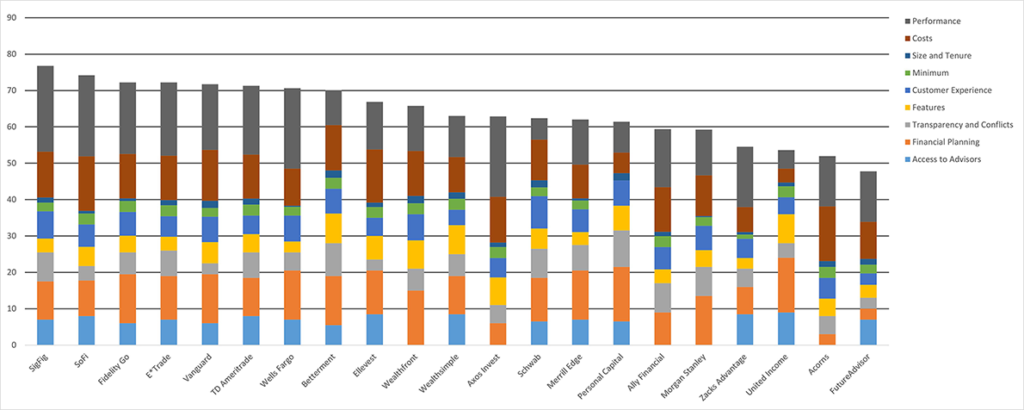 SigFig does have various tools and features available on its portal. One of its unique features is its ability to analyze outside accounts, flagging issues such as a lack of diversification and high fees. While other robos have aggregation tools, SigFig provides its users with these additional automated insights. It also has a retirement planner that allows users to adjust several factors and variables. The tool considers where a user will retire, their desired standard of living, and the risk profile of the user's investments, among other options. These quality digital tools, access to a live advisor, and strong performance helped SigFig land Best Overall Robo.
SoFi is Runner-up
The runner-up for Best Overall Robo is SoFi. SoFi is a very low-cost option and is one of only two robos to score full points in the Cost category of the Ranking. It has no investment minimum, no management fee, and offers access to expert advice.
SoFi had the fourth-best performance relative to its Normalized Benchmark and the second-highest Sharpe ratio. Among the portfolios used in the Ranking, SoFi had the second-best equity performance, returning 11.04% annually over the 3-year period.
SoFi's original business is as a consumer lender and provider of debt management. Combined with no investment minimum and no advisory fee, SoFi is a great choice for those looking to manage their debt and then start investing for their future. While SoFi has online budgeting tools, it does not offer much in the way of digital financial planning. Still, SoFi offers access to a team of financial planners that can provide planning advice. The introduction of a financial planning team greatly increased SoFi's score in this version of the Robo Ranking.
Fidelity Go Earns Honorable Mention
Fidelity Go is ranked the third Best Overall Robo. To construct its portfolio, Fidelity Go uses its Fidelity Flex mutual funds. Although we acknowledge the conflict of interest when a provider relies on proprietary funds, the funds do not have any underlying expense ratios and the account is a perennially strong performer. Last year, Fidelity changed its fee structure, significantly reducing the effective fee for those with balances below $50,000. For clients with balances of $50,000 or higher, the all-in cost of 0.35% is competitive with most other low-cost providers when considering both the management fee and the underlying expense ratios of the funds.
Clients can upgrade to the Personalized Planning and Advice level, but the fees jump to 0.50% while the minimum increases to $25,000. This 0.50% fee and increased minimum, although not the lowest on the market, is competitive with other "hybrid advice" offerings. With this higher-tier service, account holders can work with an advisor to address investment and planning needs, which are not covered by Fidelity Go's digital tools. Consistent performance, a competitive fee structure, and useful digital planning tools are the hallmark of a good robo advisor and why we ranked Fidelity Go third Best Overall Robo.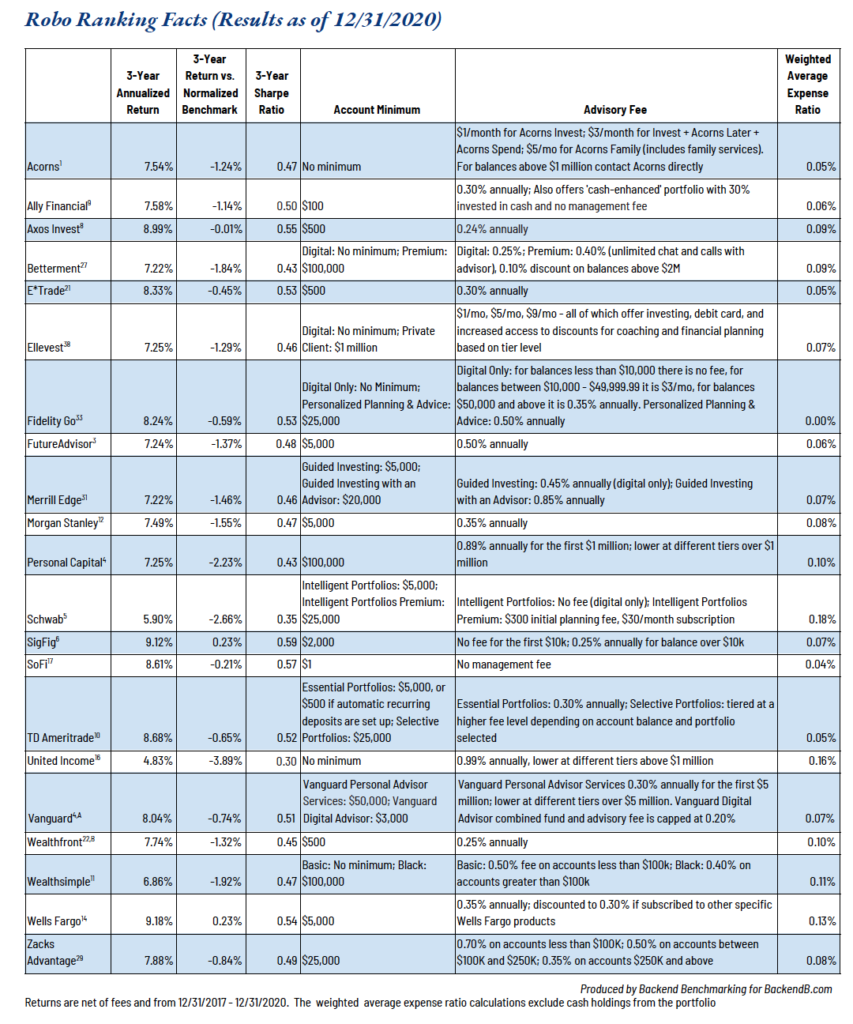 The Robo Ranking™ is the only comprehensive ranking of robo advisors that includes not only the features and services, but also portfolio performance, sourced from real accounts tracked by Backend Benchmarking. The Robo Ranking™ goes well beyond performance and grades the robos across more than 45 specific metrics. We scored each robo on various high-level categories, such as features, financial planning, customer experience, access to live advisors, transparency and conflicts of interest, size and tenure, account minimums, costs, and performance. Each metric where we grade the robos is specific and unambiguous. You can get a full copy of the Ranking here.
Best Robos
Tagged
Best Overall
,
Digital Advice
,
Fidelity
,
Fidelity Flex
,
FidelityGo
,
Performance
,
Personal Advisor Services
,
Robo Ranking
,
SigFig
,
SoFi
,
Tax Loss Harvesting
,
TD Ameritrade
,
Vanguard
,
Wells Fargo