Best Robo for Performance at a Low Cost 2021
Posted on August 11, 2021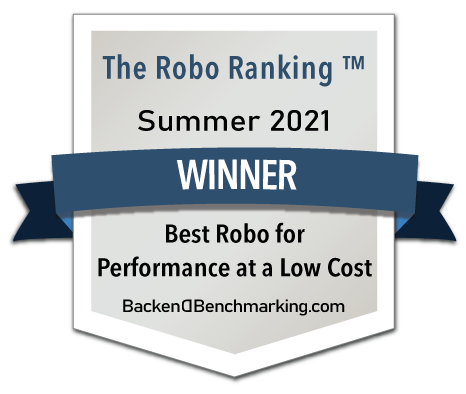 Best Robo for Performance at a Low Cost 2021
Winner: SoFi
Runner-Up: SigFig
Overview
SoFi won the Best Robo for Performance at a Low Cost award, narrowly defeating SigFig. Still, both robo advisors are an excellent choice for investors looking for a strong track record and limited fees.
The Robo Ranking performance score is based on the account's Sharpe ratio and performance compared to the account's Normalized Benchmark. This Ranking uses data from the 3-year trailing period ending June 30, 2021.
SoFi takes First Place
SoFi and SigFig earned a 0.81 Sharpe ratio for the 3-year period ending June 30, 2021. The average was 0.70 for the Ranking group of 20 robo advisors. When looking at the SoFi portfolio, the largest allocation was to SFY, a proprietary fund that invests in the 500 largest U.S. companies. Meanwhile, SoFi invested around 4% in mid-cap funds and 2% in small-cap funds, which boded well given that the S&P 500 returned close to 67%, cumulatively, for the 3-year period ending June 30, 2021, while the Russell Mid-Cap and Russell Small-Cap returned approximately 58% and 46%, respectively.
SigFig – A Close Contender
Trailing just behind, SigFig benefitted from many of the same themes. Its U.S. large-cap exposure has been favored tremendously in the last three years. SigFig also holds a substantial amount of emerging market stocks; this allocation bolstered performance, as the MSCI Emerging Markets index returned close to 39% and the MSCI EAFE index returned roughly 29%, cumulatively, for the trailing 3-year period ending June 30, 2021.
Avoiding Pitfalls
Lastly, both SoFi and SigFig avoided a few major pitfalls. Namely, they did not tilt their portfolios towards value, nor did either portfolio hold excess cash. SoFi and SigFig held 0.01% cash and 0.70%, respectively, at a time when our Schwab account held 9.99% cash, according to the portfolio's holdings as of June 30, 2021.
Low Fees, High Returns
From a fee perspective, SoFi offers its robo advisor with no management fee and our account had just 0.04% fund fees. Similarly, SigFig offers the first $10,000 managed for free, and 0.25% fee after that, with average fund fees of 0.06%. These are strong options when compared to the field. The average robo advisor in the Ranking charges a 0.35% management fee and has a 0.08% average fund fee.
It is worth remembering that traditional advice relationships can charge upwards of 1% to 1.5% with mutual fund fees north of 1%. The ETF revolution and the advent of the robo advisor offer tremendous value to those who otherwise would have been left out or paid significantly high fees. SoFi and SigFig are exceptional examples of this trend.
Best Robos
Tagged
Best Robo
,
Performance
,
SigFig
,
SoFi