Best Robo Advisor For First-Time Investors 2021
Posted on August 11, 2021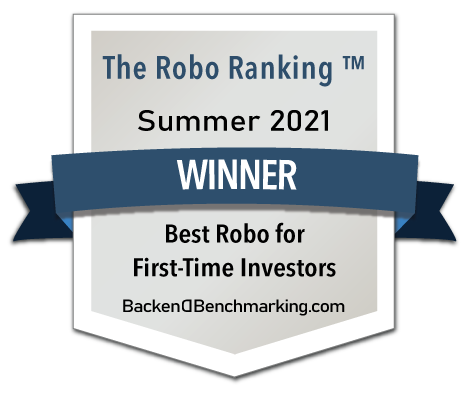 Best Robo Advisor For First-Time Investors
Winner: Betterment
Runner-up: SoFi
Betterment remains the Best Robo for First-Time Investors
Betterment wins the Best Robo for First-Time Investors award. For a low fee of 0.25% annually, Betterment offers a wide variety of investment options, excellent digital planning tools, and access to CFP-designated advisors, for either a one-time fee or a subscription to Betterment Premium. Also, Betterment offers a smart beta portfolio as well as an income-focused portfolio. However, perhaps most notably, Betterment offers three new ESG-themed options, including Climate Impact, Social Impact, and Broad Impact.
When looking at Betterment's interface, an intuitive dashboard allows the investor to have different goals and different investment portfolios to meet each goal. Each goal allows the user to model different inputs, whether deposits, time horizon, or various inputs for the retirement plan. A first-time investor can start with an excellent suite of educational tools and, as they grow, access more sophisticated advice from CFP advisors.
With no investment minimum, competitive fees, clear financial planning tools, an ability to upgrade for access to CFPs, and different options to explore, Betterment is our top choice for the first-time investor.
SoFi New Runner-up
SoFi earns the runner-up spot for the Best Robo for First-Time Investors. This platform boasts a substantial amount of value at low barriers to start. Users can begin investing with SoFi Invest with just $5 – making it accessible for nearly all investors. It charges no management fee, further increasing the attractiveness of the service.
Additionally, SoFi is well known for its student loan management services, which means that a first-time investor can handle debt management and investing all under one roof.
When going deeper into SoFi's platform, SoFi Money offers high-interest savings and budgeting tools to help someone new practice the right personal finance habits. Also, the team at SoFi offers access to financial planners that users can call to ask questions about their money and receive a comprehensive financial plan.
For more information, check out the latest Robo Report and for performance and portfolio data click here.
Best Robos
Tagged
Betterment
,
Cash account
,
Fees
,
Financial Planning
,
Minimum
,
Robo Ranking
,
SoFi