Best Robo Advisor for 2021
Posted on August 23, 2021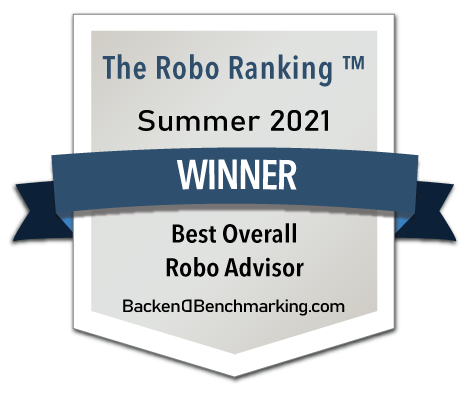 Best Robo Advisor for 2021
● Winner: SoFi Invest
● Runner-up: SigFig
● Honorable Mention: E*Trade
Overview
SoFi has narrowly edged out SigFig for the top spot for Best Overall Robo Advisor in this edition of the Robo Ranking. SoFi's first-place finish can be attributed to its substantial value proposition made accessible for nearly no cost. Also, SoFi boasted a tie for first place in Sharpe ratio, a major contributor to the performance portion of the Ranking, alongside SigFig, the second-place winner. E*Trade achieved a notable third-place spot supported by performance, especially in the bond portion of the portfolio. For a detailed look at the drivers of performance for SoFi and SigFig, please review the commentary for the Performance at a Low Cost award.
SoFi Wins the Ranking
A customer can invest with SoFi with just $5. Thanks to SoFi's fractional shares, this small sum can be invested in a globally diversified basket of ETFs. Currently, SoFi charges no management fee, while the average robo advisor in this edition of the Ranking had a management fee of 0.35%. As has been well-documented, fees can be an under-appreciated detractor from long-term performance. One note on SoFi's low costs: SoFi is backed with significant venture capital, and generating revenues and profits may not be a priority for the company at this stage. If the company shifts focus from acquiring customers to generating profits, they may start to charge customers for more of their services. That said, in its current form, the SoFi platform is an attractive option.
One of the most important categories of the Ranking is the 10 points allocated for access to financial advisors. Investors with SoFi can access a team of financial planners without the hurdle of needing a higher minimum account balance or subscribing to a more expensive plan option, something that cannot be said for many of its competitors. For example, Vanguard Personal Advisor Services offers live advice for a $50,000 minimum.
Robo Ranking® Chart

Produced by Backend Benchmarking
SigFig Continues to Shine
SigFig won runner-up in this edition of the Ranking. With an accessible $2,000 minimum, access to live advisors, and the second-best performance score, this platform makes sense for many investors. It offers a portfolio monitoring feature that allows the user to track their accounts each week and a portfolio checkup to analyze outside accounts that are not managed by SigFig.
SigFig also avoided many pitfalls that held back other robo advisors; while some lost points for poor performance, others did not earn points for access to advisors.
E*Trade – The New Winner
The new winner in this category is ETrade. ETrade's Core Portfolios is accessible, requiring only $500 to get started. Powered by MoneyGuidePro, E*Trade's toolkit for retirement and financial planning is of the quality and depth that can accurately facilitate the planning process. Unfortunately, these tools are not yet fully integrated with the investment accounts. This means that despite the depth of these tools, they are not the most user-friendly.
At its lowest tier, E*Trade offers access to an SRI-themed option. Socially Responsible Investing continues to grow in popularity and is top of mind for many modern investors. Although it comes with a higher management fee and a $25,000 minimum, E*Trade also offers Blend Portfolios, which brings with it a financial consultant to offer personalized advice to the investor. At the E*Trade Core service level investors have access to a call center, but these service representatives are there for mostly operational support. All in all, the E*Trade platform is well-rounded and can be used for planning or a more casual investment option.
When we look back at this edition of the Robo Ranking, we see many of the same trends that have powered the top Ranking scores in the past. Performance, planning options, and costs remain at the forefront.
Robo Ranking® Facts Table
Produced by Backend Benchmarking
Returns are net of fees and are as of 06/30/2021. All returns for periods longer than one year are annualized.
Numbers in parentheses correspond to disclosures found here.
The Robo Ranking™ is the only comprehensive ranking of robo advisors that includes not only the features and services, but also portfolio performance, sourced from real accounts tracked by Backend Benchmarking. The Robo Ranking™ goes well beyond performance and grades the robos across more than 45 specific metrics. We scored each robo on various high-level categories, such as features, financial planning, customer experience, access to live advisors, transparency and conflicts of interest, size and tenure, account minimums, costs, and performance. Each metric where we grade the robos is specific and unambiguous. You can get a full copy of the Ranking here.
Best Robos
Tagged
Best Overall
,
Digital Advice
,
Fidelity
,
Fidelity Flex
,
FidelityGo
,
Performance
,
Personal Advisor Services
,
Robo Ranking
,
SigFig
,
SoFi
,
Tax Loss Harvesting
,
TD Ameritrade
,
Vanguard
,
Wells Fargo