Best Robo for Complex Financial Planning 2021
Posted on August 11, 2021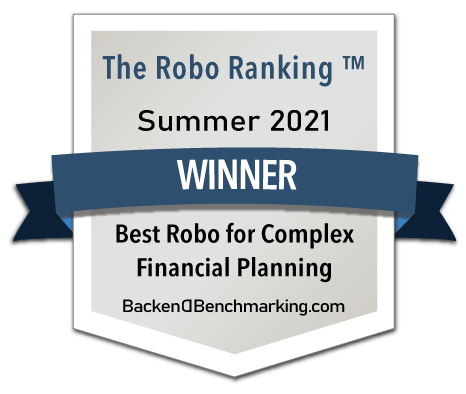 Best Robo for Complex Financial Planning 2021
Winner: Vanguard Personal Advisor Services
Runner-Up: Personal Capital
Honorable Mentions: Ellevest
Overview
For investors who have complex planning needs, digital offerings that include a live human advisor are essential. Vanguard Personal Advisor Services is the quintessential choice for this category, while Personal Capital and Ellevest have compelling offerings as well.
Vanguard Personal Advisors Services
Vanguard Personal Advisor Services is the juggernaut in this space. It is one of the largest platforms with over $243 billion in assets as of June 30, 2021. For a low management fee of 0.30% and a minimum investment of $50,000, users can work with a live advisor to model multiple financial goals. Investors can view a comprehensive illustration of their assets for a full picture. When we consider that traditional financial advice relationships often require at least $250,000 in assets and at least a 1% management fee, Vanguard Personal Advisor Services has paved
the way for a new kind of service.
Personal Capital
The runner-up, Personal Capital, combines best-in-class online tools with a team of live advisors at a minimum of $100,000. Its fee of 0.89% is one of the more expensive options. Although not as inexpensive and accessible as Vanguard, Personal Capital does differentiate itself in a few notable areas. There are multiple portfolio strategies including direct indexing and SRI-themed allocations, while those investing more than $1,000,000 can receive custom allocations that include private equity investments. From a features perspective, the Retirement Paycheck helps users determine a tax-efficient withdrawal strategy. Although fees are certainly high when compared to the robo universe, it is one of the few platforms to receive a perfect score in financial planning.
Ellevest
Earning the honorable mention in this category is Ellevest. At a $1,000,000 minimum, Ellevest Private Wealth offers a combination of financial planning, impact investing, and executive coaching that is tailored specifically for women. The planning options include CFP-designated advisors, which is the gold standard for planners. At lower tiers, investors can also purchase access to many of these services for one-time fees at reduced rates based on their level of membership. Through Private Wealth or one-time purchases, investors across the Ellevest platform can access sophisticated advice to handle complex inquiries and situations.
Details of how we rank the robos can be found here: https://www.backendbenchmarking.com/robo-ranking/
Best Robos
Tagged
Backend Benchmarking
,
Best Robo
,
Ellevest
,
Financial Planning
,
Hybrid
,
Personal Advisor Services
,
Personal Capital
,
Robo Ranking
,
The Robo Report
,
Vanguard
,
Wealthsimple