Best Robo Advisor for Digital Financial Planning 2021
Posted on August 11, 2021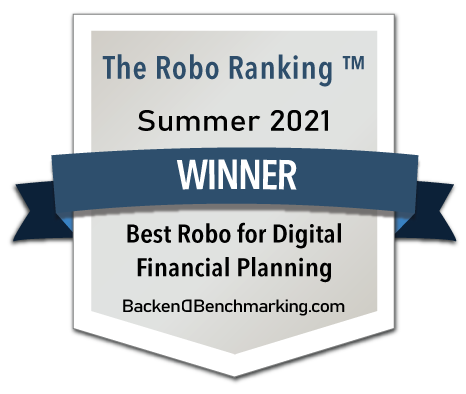 Best Robo Advisor for Digital Financial Planning
Winner: Wealthfront
Runner-Up: Personal Capital
Honorable Mention: Schwab

Overview
Perhaps one of the most significant impacts of the advent of the robo advisor is the proliferation of the digital financial plan. When looking at the top three robo advisors in this important category, there are a few major trends. First, the ability to link outside accounts so the user can see their full financial picture. Next, a unified goal that brings together the elements of the plan in one projection. Finally, we look for a level of detail in the features offered so that they accurately reflect the complexity of an individual's financial life. Together, these characteristics make Wealthfront, Personal Capital, and Schwab Intelligent Portfolios Premium stand out for the Best Robo for Digital Financial Planning.
Wealthfront's Self-Driving Money
Wealthfront's Self-Driving Money is a set of features that helps investors manage funds from the time that they deposit their paycheck to the point where they invest long-term. Autopilot, one component of this feature, is designed to alert the investor when they are holding excess cash above a pre-designated threshold. From there, the user can move funds into a long-term investment account, maximizing their time in the market.
Another example of Wealthfront's sophistication is the detail in which a user can model a home purchase. Unlike many other platforms, Wealthfront includes a user's zip code and house specifications. The combination of design and innovation make planning with Wealthfront smooth.
Personal Capital's Unique Platform
The runner-up is Personal Capital. This digital platform stands out for offering a detailed suite of tools that analyze many individual aspects of one's financial life, and, unlike Wealthfront, dissects investments held in outside accounts. The Investment Checkup takes a user's outside investments and compares it to a recommended portfolio across asset allocation and projected value. Another component is the Retirement Fee Analyzer, which looks to identify expense ratios that may be problematic. Finally, the dashboard displays a net worth graph alongside budgeting and cash flow features that allows a user to easily monitor their situation.
Schwab Premium
Schwab Intelligent Portfolios wins the honorable mention for this category due to its digital platform offered at the Premium tier, which is a subscription-based version that requires a $25,000 minimum. The planning features here are powered by MoneyGuidePro, an institutional-quality suite of tools. Importantly, like the other winners in this category, Schwab's plan can integrate multiple goals into a single comprehensive financial plan. Finally, the strong digital planning at Schwab Intelligent Portfolios Premium is augmented by a live planner. These planners hold a CFP® designation and work with the client to guide them through a comprehensive plan. Live planners combined with powerful digital planning make Schwab one of the most compelling planning providers in the robo advice landscape.
The Robo Ranking™ is the only comprehensive ranking of robo advisors that includes not only the features and services but also portfolio performance, sourced from real accounts tracked by Backend Benchmarking. The Robo Ranking™ goes well beyond performance and grades the robos across more than 45 specific metrics. We scored each robo on various high-level categories, such as features, financial planning, customer experience, access to live advisors, transparency and conflicts of interest, size and tenure, account minimums, costs, and performance. Each metric where we grade the robos is specific and unambiguous. See the full scoring rubric here
Best Robos
Tagged
Backend Benchmarking
,
CFP
,
Digital Advice
,
Financial Planning
,
Personal Capital
,
Robo Ranking
,
Schwab
,
The Robo Report
,
Wealth Management
,
Wealthfront