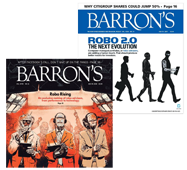 We were honored to work with Barron's on their robo advice cover stories and they said this about us: "Barron's has a comprehensive look at how [robo advisors] are doing, thanks to groundbreaking data from Backend Benchmarking…" Click here to read the story.
Take your investing to a new level with our FREE Robo Report®
Our Methodology
We opened and funded accounts at robo advisors seeking specific portfolios. We now track the holdings and performance on those accounts to provide our readers an in-depth look inside the portfolios.
Our Purpose
Our purpose is to bring transparency to the algorithm-driven investment accounts commonly known as robo advisors to help investors make informed decisions when investing in these products.
Performance
Tracking performance and giving insight on the drivers behind under- and over-performance so the investor can compare performance before investing.
Risk Measurement
Exploring how risk is affecting our robo portfolios. Not all accounts are created equal, and performance is only part of the picture.
Portfolio Holdings
We opened accounts so we could see the actual assets being held inside a robo advisor's portfolio to help our readers understand the underlying holdings.
Robo News
We track news surrounding the robo industry. We give a quarterly synopsis of the happenings in the industry in case you missed anything.
Share The Robo Report®:
Follow Us